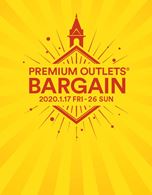 Enjoy outlet shopping with more affordable price.
① Sale period:from Jan. 17, 2019 to Jan. 26, 2019.
② Information:
*Sale items at each store are subject to change without notice.
*This sale may not be able to combine with coupons or any other special offer.
*Advertising items may be sold out at outlet stores.
*Some products are not included in this sale.
*Original prices as shown on the sale price tag are the importer's suggested retail price, the manufacturer's suggested retail price, or the standard price for the relevant company.
*Please kindly ask to the stores directly for more information.