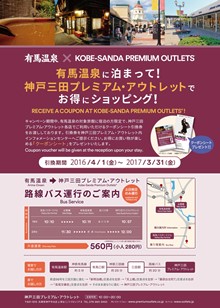 All applicants staying at selected facilities at the Arima Onsen will receive a 'Coupon Sheet Voucher' that slashes a maximum 20% off prices at selected shops in the Kobe-Sanda Premium Outlets®.
We invite all travelers who are considering lodging at the Arima Onsen to take advantage of this opportunity!
*The 'Coupon Sheet Voucher' will be distributed at check out.